Help with cleansing normal to oily skin
As you may have already read in my previous blog, cleansing properly is essential for beautiful skin. But what may be a good product for your skin may be the wrong one for the person next door. It is important that your cleanser is suitable for your skin type and for the condition of your skin. So, what is a good product for the more oily or combination skin?
Active substances in your cleanser?
A cleanser doesn't need to contain high concentrations of active ingredients because most of it is rinsed off into the sink. There are certain techniques available which help active ingredients, in a cleanser, stay on the skin after rinsing. This can be achieved by encapsulating an ingredient within small balls of phospholipids, polymers or silicones. This is, for example, done with salicylic acid. The encapsulation ensures that the salicylic acid remains active, that it doesn't mix with other ingredients and that it remains on the skin after rinsing. It sounds great but the challenge with this method is getting a sufficient concentration onto the skin. Moreover, the pH level needs to be low in order to be effective and that causes irritation to eyes. That is why I think it is better to have active ingredients in your toner, moisturizer or exfoliant.
Check the cleansing agents carefully
Look carefully at the cleanser to see which cleansing agents it contains that you can do without. There are a great deal of harsh cleansers on the market that will give an oily and acned skin a good clean, but these are best left alone. You should choose a non or minimal foaming cleanser: they contain less cleansing agents and are therefore less likely to cause irritation.
In fact, a good indication is that if your face feels taut after washing then the product is too harsh for your skin. Mild cleansing substances which thoroughly clean the skin without damaging it are e.g. Cocamidopropyl Betaine, Sodium Lauryl Glucose Carboxylate, Laureths (-4,-7,-23), Sodium Cocoamphoacetate ( N.B: sodium cocoate is less mild) and Lauric Acid.*
Definitely avoid: Sodium Lauryl Sulphate, Sodium Palmate, Salvia Officinalis, Sodium Cocoate and Sodium Palm Kernelate.*
*The ingredient names as they are stated on the INCI list.
Go for mild, even with oily skin
Using the correct cleanser can make a significant difference. It is important that you use a mild cleanser for normal to oilier skin too. That means a cleanser that removes bacteria and excess sebum without damaging or dehydrating the skin. It is fine to cleanse a normal to oily or combination skin twice a day with a mild cleanser.
Oily skin and spots
If you are suffering from spots without having too sensitive skin, then the cleanser can be slightly foaming. Make sure you rinse it off with water thoroughly. This skin type is the only one which is suitable for therapies such as cleansing brushes (ie. the Clarisonic). Change the brushes regularly and don't overdo it. In fact it is better to use an exfoliant with salicylic acid. This gives the pores a deep clean within and has an anti-inflammatory effect. You can read more about this subject in my blog.
Some extra tips:
-Never go to bed without cleansing your face.
-Always wash your face after exercise.
-Use luke-warm water.
-Don't rub but gently pat your face dry.
-Use a clean towel.
-Apply your toner or moisturizer while your skin is still damp.
Product advice
Cleanser (normal to oily skin) ) by Dr. Jetske Ultee
This Cleanser has a gel-like texture and is mildly foaming. In contrast to the Cleanser for normal to dry skin this contains some more cleansing substances (obviously still mild) and less oily substances such as shea butter.
(Last updated March 2020)
---
Clear Facial Cleanser by Paula's Choice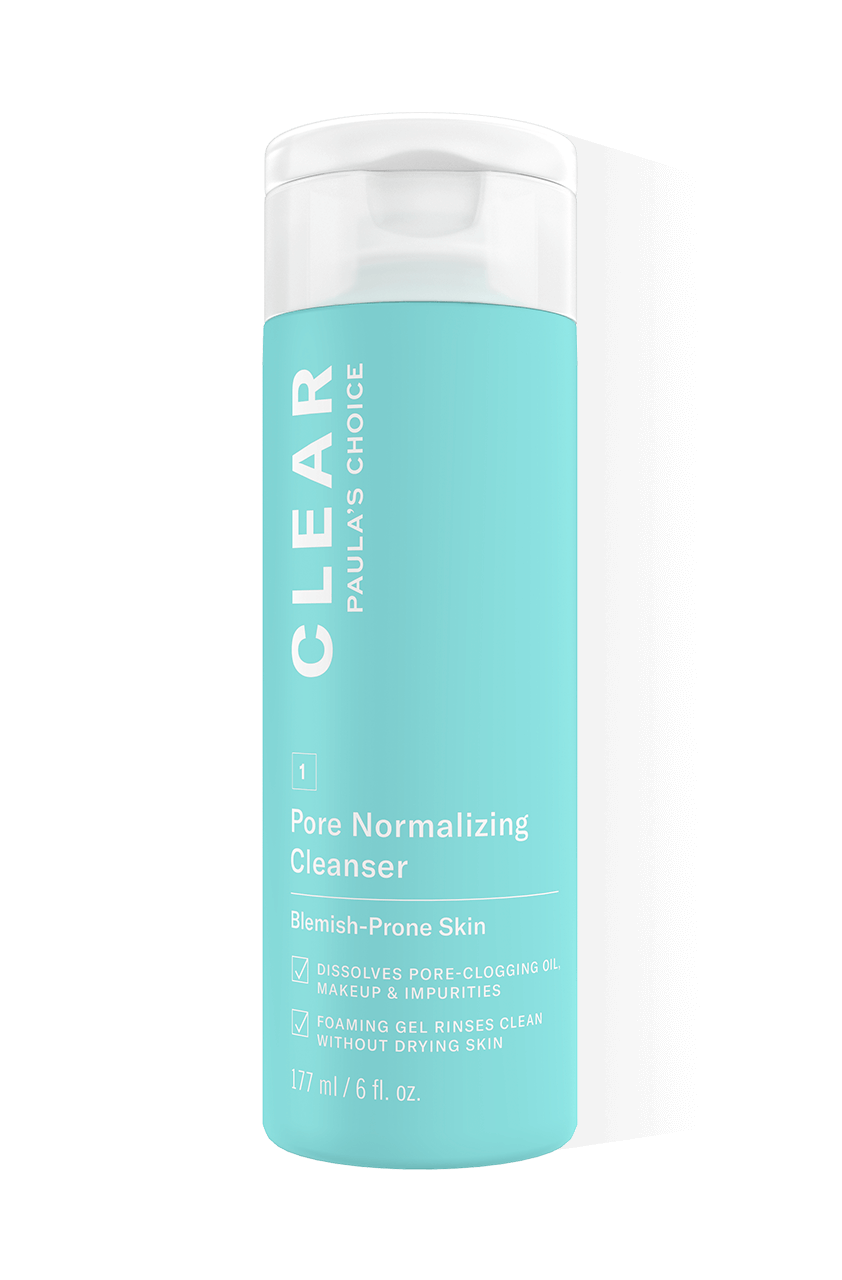 A reasonably mild cleanser. A good option for oily skin with impurities.
(Last updated March 2020)
---
 Face Wash Lotion by Neutral
This cleanser is a good option for normal to oily and very sensitive skin. In fact, this can also be used on the drier skin types. Although foam isn't a measure of how well a product cleanses, a lot of people still prefer a foaming product anyway.
(Last updated March 2020)
---
Cleansing gel Clear Skin by Zarqa
A mild gel for oily and/or (sensitive) skin with impurities.
(Last updated March 2020)
If you know about good products I would love to hear from you via the blog or e-mail ([email protected]).

Kind regards,
Jestke.
Research Physician Cosmetic Dermatology
Related Articles
Help with cleansing dry and sensitive skin
Product advice for facial care
Plant oils in your skincare